SMALL MODULAR REACTORS TURN WATER INTO ENERGY.
WE CALL THEM CLEAN GREEN ENERGY MACHINES. GEMS.
The Green Energy Machine
Water to energy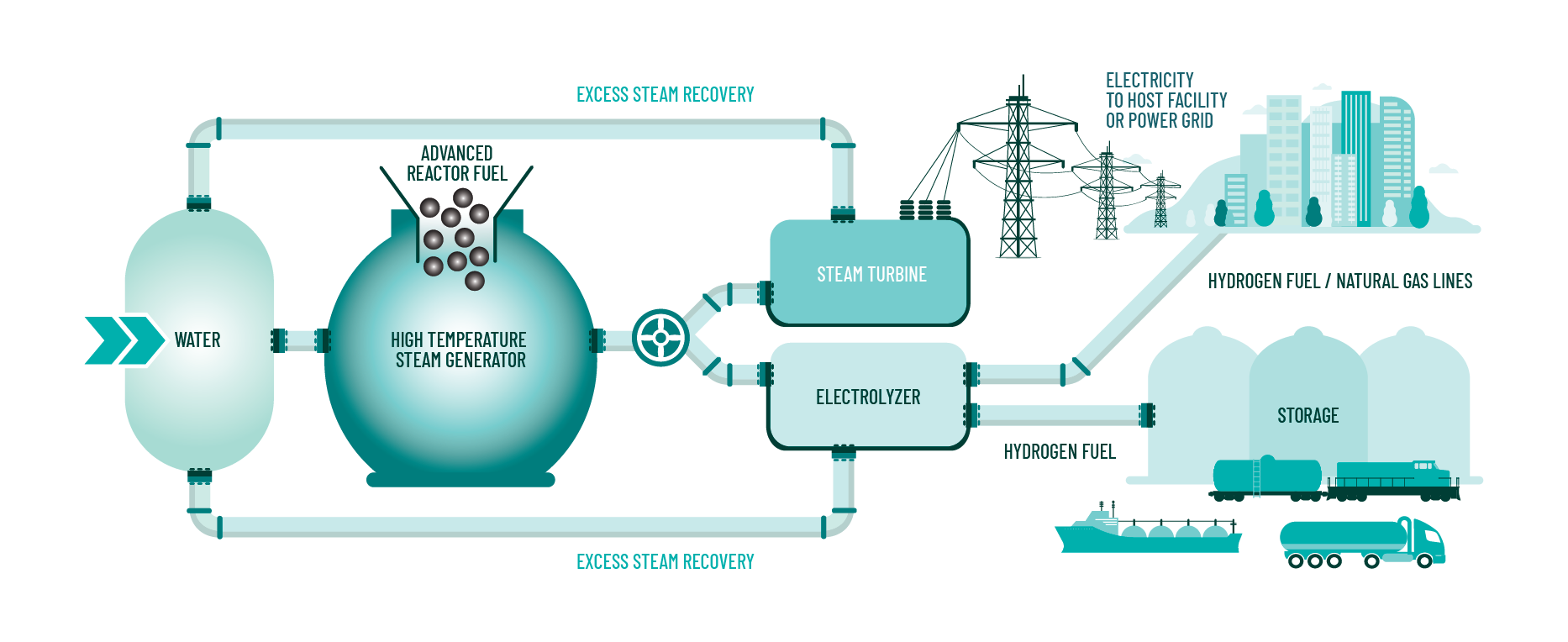 MASSIVE POWER. MODULAR DESIGN.
Thanks to the most advanced technology components, passive safety features, intelligent design and many with walk-away safe fuel, Green Energy Machines or Small Modular Reactors (SMRs) will greatly decrease the area needed for a powerful, future-proof green energy solution. Thanks to its modular design, revolutionary Green Energy Machines are also readily scalable and able to power everything from a single business to an entire municipality. Mobile SMR units can also be deployed to remote locations, military bases, and disaster relief efforts.
ALWAYS-ON ELECTRICITY AND HYDROGEN FUEL.
Some candidate designs for Green Energy Machines circulate helium gas coolant through their core, which absorbs extreme amounts of heat. Others use liquid metal or molten salts. The intensely hot coolant then boils water into steam, which propels a turbine to produce always-on, zero carbon electricity during peak demand. With the simple turn of a switch, Green Energy Machines also employ electrolyzers that split water molecules to generate carbon-free hydrogen. This can be stored and used on-site, stored off-site, or sold and transferred using existing natural gas lines.
THE FUTURE IS NET ZERO CARBON.
Wind and solar have been and will continue to be excellent alternatives to fossil fuel. But the ability to generate always-on clean energy — rain or shine — is a critical step toward restoring health to our planet, protecting our national security and re-establishing the United States as a world leader in sustainable energy production. Green Energy Machines or SMR's are how we will meet net zero power production safer and faster than we ever thought possible with power made by water.
GREEN ENERGY PARTNERS ARE ALL ABOUT TURNING
ANY KIND OF WATER INTO POWER. EVEN EFFLUENT.
Recently, Green Energy Partners secured 300 acres for the development of a property called Stonewall Secure where we partnered with Bechtel and built an 850 MW Combined Cycle Power Plant. This plant utilizes the effluent from the Leesburg sanitary sewer plant to make steam to power a 400 MW steam turbine, which averted massive destruction of forestry that would have been required to bring in new power lines. Today, powered by natural gas. Tomorrow, by green hydrogen fuel. The residual property was zoned for data centers and sold to Google and Mitsubishi.
Combustion Turbine Generator
Heat Recovery Steam Generator
Steam Turbine Generator
Admin Building / Control Room
Warehouse
Cooling Tower
ZLD System
Reclaimed Water Tank
Stonewall 230kV Switchyard
Dominion 230kV Substation
Gas Meter Station-Dominion
Gas Meter Station-Columbia